Some of you have discovered the unparalleled benefits of squats.
The almost supernatural musculature it provides the heart. The lower body stability. Enhanced sex appeal with clothes on, and off.
As your squatting weight increases, however, so does the compression of your spine, knees, hips. Not to mention the every day compression of gravity and aging.
That's why the Inversion Table becomes such an invaluable tool. By opening up your spinal column and joints, and fluffing the discs like pillows between the vertebrae, you are unwinding injuries that may be decades old.
I've been putting myself on the Inversion Table every day. I also do 8 sets of squats a week. My back has never felt better. Most back problems are fixable if you're willing to do the work.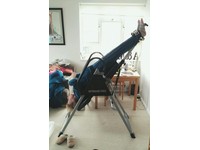 Other benefits of the Inversion Table are more esoteric. Tanya's K mentioned her grandfather lived into his 90's, and stood on his head every day life. You won't get dementia this way. The Table is better because it doesn't compress the neck.
Enjoy the de-stressing, jaw-relaxing, youthful appearance that goes with it. Ciao, Pietro
www.petergault.ca